Watch Bayern Munich vs Manchester City Live Streaming Match #FCBMCI #MiaSanMia
Bayern Munich vs Manchester City
International – Club Friendlies
Date: Sunday, 24 July 2022
Kick-off at 00:00 UK/ 01:00 CET
Venue: Lambeau Field.
It's the battle of the Champions as Bundesliga winners Bayern Munich take on EPL title-holders Manchester City this Sunday in an encounter which promises to be an attacking masterpiece right from the get go.
The Citizens had found the back of the net an astonishing 99 times through their league campaign the last season and despite immense pressure from arch-rivals Liverpool, they managed to win the title on the final match-day of the season.
All through the campaign they were defeated just 3 times and in the process, they had let in a total of just 26 goals. It also deserves to be mentioned that in a season where they had +73 goal difference, their arch rivals Manchester United had a goal difference of exactly zero.
Meanwhile Bayern won the German title for the 10th straight time and during the course of this stretch they had found the back of the net an impressive 97 times from their 34 fixtures.
This will be the time for experiments for them as they play without star striker Robert Lewandowski for the first time in 9 years. However, they have made some good replacements in the form of Sadio Mane and against Pep Guardiola's Manchester City, it promises to be an exciting affair.
Moreover, goals have also come in plenty whenever these 2 teams have locked horns in the past.
Likely, anticipate a high-scoring affair this Sunday.
Bayern Munich vs Manchester City Head-to-head (h2h)
5 of the past 7 encounters had 3 or more goals.
5 of the previous 7 clashes had goals from both teams.
The latest meeting had finished in a 2-3 win for Manchester City.
The last 4 overall wins were split into two each for either squad.
Bayern Munich vs Manchester City Prediction & Analysis
Bayern Munich were unbeaten in 27 of their past 32 overall fixtures and in the process they had gone on a 7-fixture winning streak as well as 2 separate 3-game winning stretches.
On the other hand, the Citizens had won 8 of their previous 10 overall games, and they had found the back of the neck 2 or more times in 9 of these fixtures.
Besides with the addition of Erling Haaland, their goal scoring output is only expected to go further up.
Likely anticipate goals to come in plenty between the 2 teams this weekend
Transfer News: Chelsea and Arsenal agree deals for new wingers
Chelsea have agreed a 35 million euros fee with PSV for new winger while Arsenal and Brighton have done the same for Leandro Trossard.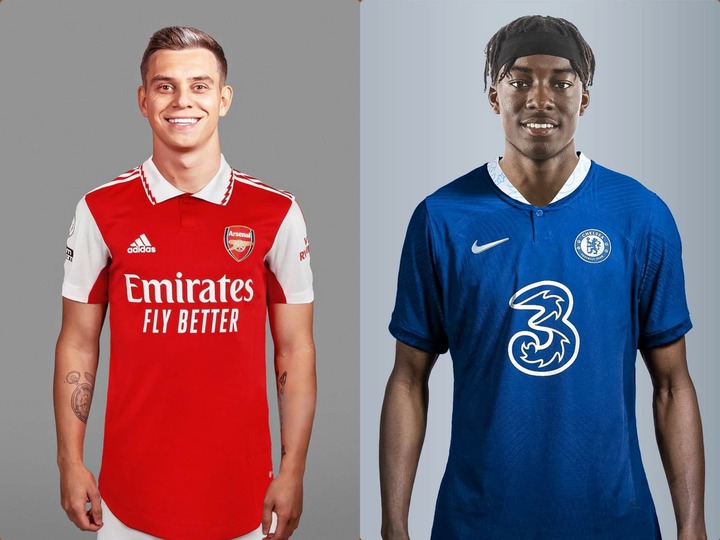 Chelsea are simply not holding back in the transfer market. The club have reached full agreement with PSV Eindhoven for Nonny Madueke for a fee of €35 million.
Madueke is the 3rd offensive signing Chelsea are signing this January having Brought in Joao Felix and Mudryk earlier.
It remains to be seen what direction Chelsea are taking with so many signings but things will be clearer when they have all their players available. As it stands, Madueke is the 11th player currently under Chelsea custody who can play on the wings.
Arsenal on the other hand have completed their first winter signing after reaching agreement with Brighton for the transfer of Leandro Trossard.
Trossard has wanted out of Brighton after falling out with their manager and with his contract expiring in June, Arsenal have got him for a much reduced fee.
Trossard is Arsenal's alternative to Mudryk who joined Chelsea after the blues offered Shakhtar Donetsk's asking prizlce for the Ukrainian m
Watch AC Milan vs Salzburg Live Streaming Match #UCL #ACMSAL #SempreMilan
AC Milan vs Salzburg
Europe – Champions League
Date: Wednesday, 2 November 2022
Kick-off at 21:00 UK/ 22:00 CET
Venue: Stadio Giuseppe Meazza.
Both AC Milan and Salzburg are in the running for a spot in the knockouts of the Champions League, and currently they are separated by a single point in the group table. In this final match-day of the group stage, expect a fierce clash between the two.
Milan are the reigning Italian champions, and they of course have that confidence going into this crucial game. Moreover they are at home for this final group stage fixture, where they will be vociferously cheered on by their loyal fans.
It is also to be noted that they are champions of one of the top-five leagues in Europe, who are pitted against an opponent from a league that is nowhere near the Serie A in terms of quality.
Moreover, pressure is not something new for the Italian title-holders. The last season they were chased by arch-rivals Inter Milan almost through the entirety of the second half of the season, and they still managed to lift the trophy at the end.
As such, expect a confident and determined bunch of Milan players at the Stadio Giuseppe this Wednesday.
Meanwhile, Salzburg are ready for the fight. They already recorded a draw in the reverse fixture, and will be willing to give it all at this final hurdle.
They have been on a good run for quite some time – so much so that their only defeat in the past three months came against the two-time European champions Chelsea.
Furthermore, they are on a long streak of great performances on the road. In fact, the last they lost away from home was back in July, and before that in April.
Surely expect a thrilling encounter this Wednesday, as the two lock horns. Anticipate goals from either end of the pitch.
AC Milan vs Salzburg Head-to-head (h2h)
The reverse fixture ended in a 1-1 draw.
Other than that AC Milan have a 100% winning record.
They kept clean sheets in all but one clash so far.
The combined scorecard for the past three meetings is 5-1, in their favor.
AC Milan vs Salzburg Predictions
Milan are on a winning streak at the moment, and they scored ten goals from the past three fixtures. They are also at home, where they have been on a great run for quite some time now.
On the other hand, Salzburg too are in great form. They even managed to deliver some great performances away from home, and scored in plenty all through this stretch.
Expect a high-scoring thriller in this final group-stage game between the two.
Watch Juventus vs PSG Live Streaming Match #PSGJUVE #UCL
Juventus vs PSG
Europe – Champions League
Date: Wednesday, 2 November 2022
Kick-off at 21:00 UK/ 22:00 CET
Venue: Allianz Stadium.
The Parisians could be counted as the best team in Europe at the moment, after of course Manchester City. But it is no argument that their fearsome front trio is finally clicking, and they will be the favorites to pull off one more win this Wednesday against Juventus.
The Old Lady are just in so much mess. They are not even in the conversation for the title in the Serie A, and their European exploits this season has been simply subpar.
As of now they are placed second to last in the table, level with the dead-last placed Maccabi Haifa. They managed to win just once so far this whole campaign, and no points for guessing against whom the sole win was registered – Maccabi.
And more than that, apart from that win, the former Italian champions have a 100% losing record. After defeating Haifa at home, the Italians lost the very next fixture against the same opponent.
Also, disregarding the bottom-most placed team, the Italians scored the least number of goals as well as conceded the most in the group.
Meanwhile, the Parisians just got no chill. They scored the most in the group, and conceded the least. Just the last match-day, they slotted seven goals past their opponent, with all three of their front trio getting on the scoresheet.
Moreover, the reverse fixture also ended in a win for the French champions.
Surely expect the in-form PSG to deliver another win this Wednesday against the struggling Juventus.
Juventus vs PSG Head-to-head (h2h)
The latest encounter ended in a 2-1 win for PSG.
The last four clashes had goals from both teams.
Previous four meetings had three or more goals.
Not once have the hosts kept a clean sheet at this ground.
Juventus vs PSG Prediction & Analysis
Juventus lost their latest CL game by conceding four goals, and all through this season they have been struggling with their defense. On top of that they are already out of contention for a spot in the Round of 16, and now all that remains for them is a third-place finish.
On the other hand, the Parisians are going after the top-most spot. They are in great form, and they also defeated this rival in the reverse match-up.
It is also to be noted that the last Christophe Galtier's men lost was back in March, against arch-rivals Monaco.
By the looks of things, surely expect a win for PSG this Wednesday. And considering that both teams will be going for a win, chances are high for goals to come in plenty