Chelsea fans react as Tuchel is set to replace Naggelmann as Bayern's Coach
Chelsea fans have reacted to a surprising report that Bayern Munich is seriously considering sacking Julian Naggelsmann with Thomas Tuchel appearing as the leading candidate to replace him.
Tuchel was sacked by Chelsea at the beginning of the season last year because he didn't share the same vision with the new Chelsea owners and had a bad run of results. The German has since then been without a job and has spent most of his time on vacations and tours.
Tuchel's successor Graham Potter is yet to get it right at Chelsea this season as his performance has been awful so far for the club. Chelsea is sitting at tenth on the league table and is in the Quarter-finals of the UEFA champions league.
Chelsea's hope of making it to the Champions League next season is only by winning the competition this season and they have tough games ahead of them. They will play Real Madrid next month and If they beat the Los Blancos, they will play the winner between Manchester City and Bayern Munich.
However, Chelsea fans have reacted as Tuchel is set to replace Naggelsmann as Bayern's coach and many of the fans agreed that the ex-Chelsea manager deserves a better club.
Here are the reactions below: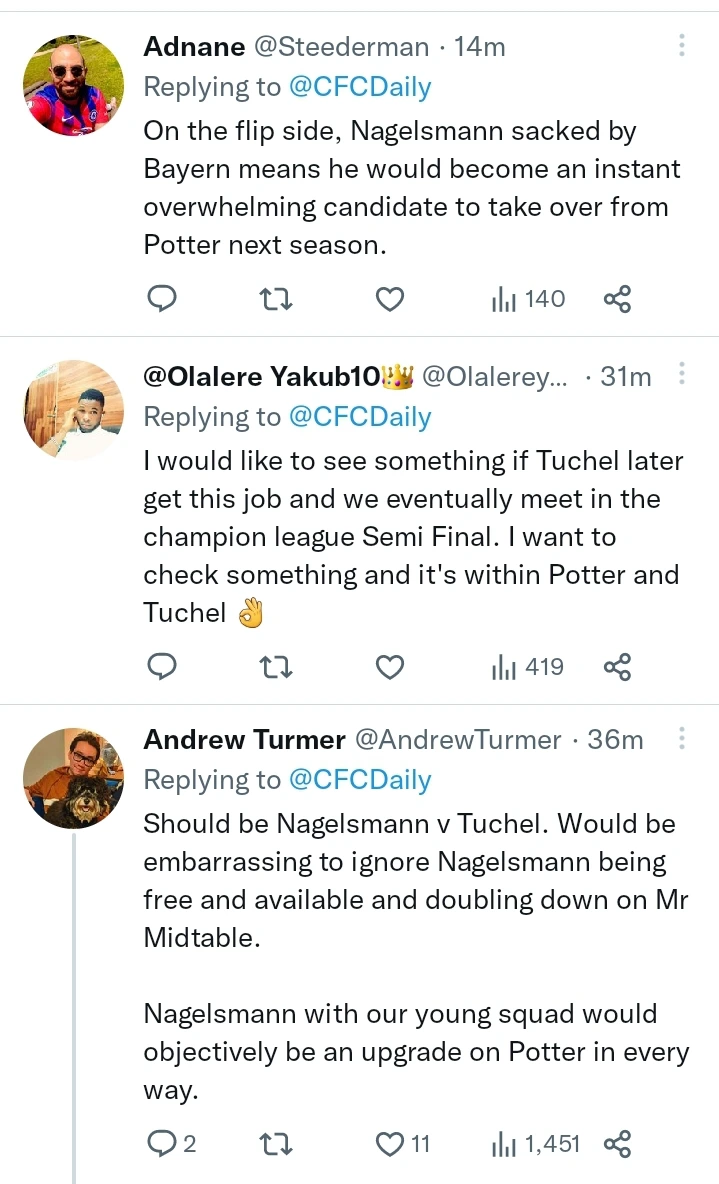 Tuchel is the kind of coach that fits Bayern's profile and there is a probability that he plays Chelsea in the UCL semi-final this season if Bayern beat Manchester City and Chelsea beat Real Madrid.
Nevertheless, the Tuchel becoming Bayern Munich new coach report is yet to be done.