CHE vs ARS: Three Chelsea Players Arteta And Arsenal Should Be Afraid Of In The London Derby
When two powerhouses such as Arsenal and Chelsea face off, it promises to be a captivating spectacle.
As we anticipate the forthcoming showdown, let's examine three Chelsea players who might pose challenges for Mikel Arteta and Arsenal in the London Derby.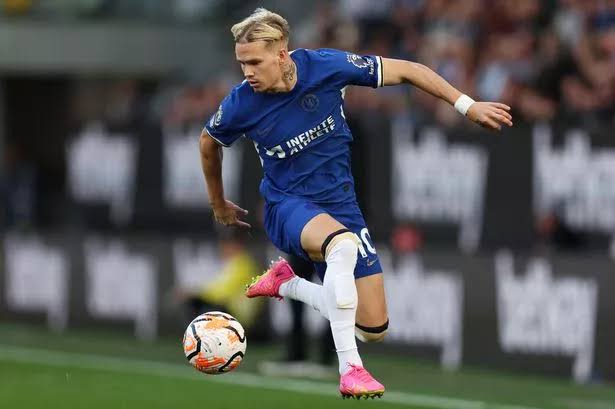 1. Mykhailo Mudryk:
Mudryk, the emerging talent from Ukraine, has developed into a formidable asset for Chelsea. With uncertainty surrounding the availability of some of Chelsea's key players, the spotlight will be on Cole Palmer to step up once more.
Mudryk's recent displays have been outstanding, and Arteta and Arsenal should exercise caution to prevent their right-back from pushing too far forward, as Mykhailo Mudryk possesses the ability to accelerate, take long-range shots, and make penetrating runs into the box if not closely monitored. Ben white/Tomiyasu will need to be at the top of their game to contain this speedster.
2. Cole Palmer:
Cole Palmer stands out as a creative mastermind in Chelsea's midfield. His exceptional ability to unlock defenses and execute late runs into the box is a formidable asset.
Arsenal's midfielders and defenders must stay alert and closely monitor his actions to thwart his dangerous runs. His vision and skill in crafting passes that split defenses could present a substantial challenge to Arsenal's defensive line. Players like Partey, Jorginho, and Rice must make sure they don't grant Palmer the space to showcase his creative brilliance.
3. Raheem Sterling:
To nullify Sterling's dribbling prowess and his capacity to generate chances, an effective defensive tactic may include employing double coverage when he possesses the ball. This approach could curtail his influence and forestall any disruption in Arsenal's defense.
In conclusion, the upcoming London Derby holds the promise of an exhilarating clash, and the contributions of these three Chelsea players are expected to be pivotal in deciding the result
MNU VS CHE: 4-2-3-1 Pochettino strongest possible IX that could help Chelsea defeat Man Utd
Today's Premier League match between Manchester United and Chelsea at Old Trafford is sure to be exciting. There isn't a distinct favorite for this forthcoming matchup because both teams have shown inconsistent play this season.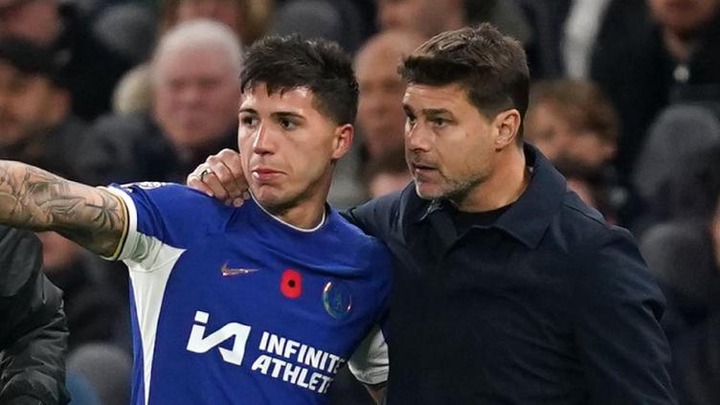 Manchester United hopes to win against Chelsea after suffering an awful defeat to Newcastle United. Chelsea, on the other hand, is hoping to keep up their current winning streak in the Premier League by thrashing Manchester United in their next game.
4-2-3-1 Pochettino predicted starting IX
Goalkeeper: The Spanish international Robert Sanchez is expected to start in goal
Defenders: Benoit Badiashile, Levi Colwill, Thiago Silva, and Reece James make up Chelsea's defense. Reece James is anticipated to start the next game, Despite his red card suspension that kept him out of the match against Brighton.
Midfielders: Cole Palmer, Moises Caicedo, and Enzo Fernandes are midfielders. As Conor Gallagher is out due to suspension, Cole Palmer will fill in at offensive midfield, with Enzo Fernandes and Moises Caicedo handling additional roles in central and defensive midfield.
Forward: Raheem Sterling, Armando Broja, and Mykhailo Mudryk are the forwards. Nicolas Jackson, who has been struggling, is replaced by Armando Broja, with Raheem Sterling on the right wing and Mykhailo Mudryk in his standard left wing position.
Confirmed Chelsea line up vs Newcastle: Lesley Ugochukwu replaces Moises Caicedo as Palmer start with Gallagher in Midfield #NEWCHE
Mauricio Pochettino makes two changes to his Chelsea team for today's game at Newcastle.
Benoit Badiashile comes in for his compatriot Axel Disasi in the heart of defence, while Lesley Ugochukwu replaces Moises Caicedo.
Otherwise, it is the same starting XI that began the 4-4 draw against Manchester City prior to the international break
That means Reece James, Thiago Silva and Marc Cucurella join Badiashile at the back, ahead of Robert Sanchez. Enzo Fernandezand Conor Gallagher continue in midfield, with Raheem Sterling and Cole Palmer supplying the width in attack, either side of Nicolas Jackson.
Caicedo and Levi Colwill, who was injured during the recent break, are among those named on the bench.
Alexander Isak returns for Newcastle after injury, but there is no Sean Longstaff.
Chelsea: Sanchez; James (c), Thiago Silva, Badiashile, Cucurella, Enzo, Ugochukwu, Gallagher, Palmer, Jackson, Sterling
Subs: Petrovic, Colwill, Disasi, Maatsen, Caicedo, Matos, Madueke, Mudryk, Broja
Newcastle: Pope, Livramento, Lascelles (c), Schar, Trippier, Guimaraes, Miley, Almiron, Joelinton, Isak, Gordon
Subs: Dubravka, Gillespie, Karius, Dummett, Ritchie, Diallo, Murphy, Ndiweni, Parkinson
Referee Simon Hooper
How Palmer and Reece James Have Complemented Each Other in Chelsea's Lineup This Season
Reece James just returned to action for Chelsea this season after recovering from an injury that kept him on the sidelines for weeks but the synergy between the Chelsea Skipper and Cole Palmer has emerged as a pivotal factor in Chelsea's recent impressive performance.
Their relationship on the pitch showcases a dynamic partnership that has been significantly impacting the team's overall performance.
One key element of this collaboration is the strategic placement of Cole Palmer in the middle, operating behind the striker.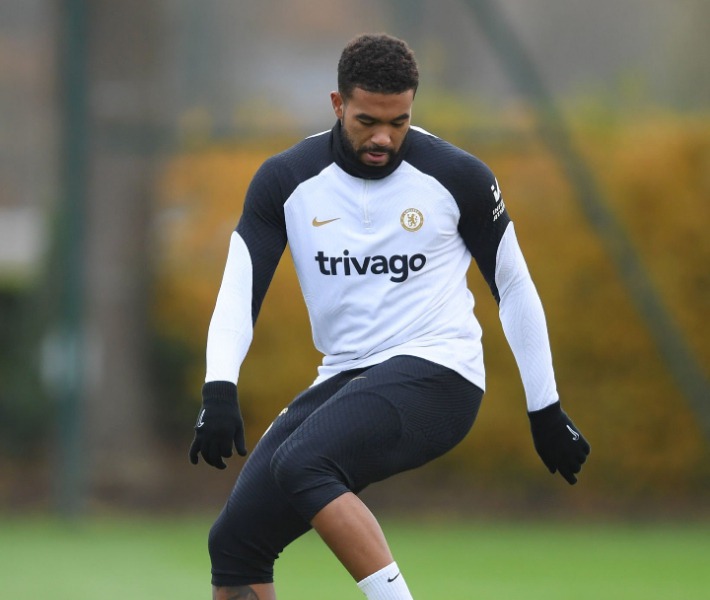 This positioning capitalizes on Palmer's unique skill set, acknowledging that he may not possess the blistering pace or sheer physicality to excel in isolated one-on-one situations with defenders.
Instead, Palmer's strength lies in his ability to receive the ball on the half-turn, exhibiting clever passes that ignite the team's attacking prowess.
Palmer's fluid style, characterized by his adept use of pockets and floating movements, creates a symbiotic relationship with Reece James.
James, a versatile right-back, benefits from Palmer's strategic play by having the freedom to occupy the wing.
This tactical understanding not only maximizes Palmer's strengths but also amplifies James's impact on the game.
What becomes evident in this partnership is Palmer essentially playing as a number 10, operating in a role that aligns with his capabilities and enhances the team's attacking dynamics.
By strategically placing Palmer in a central position, Chelsea leverages his playmaking abilities, allowing him to orchestrate the flow of the game and provide crucial link-up play between the midfield and the strikers.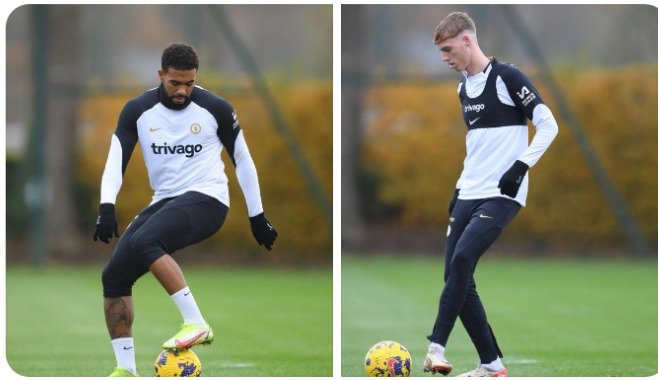 The tactical harmony between Palmer and James is not just about individual brilliance but also about how their styles complement each other seamlessly.
Palmer's intelligent movements and distribution empower James to venture forward with confidence, creating a fluid and dynamic attacking unit for Chelsea