5 Reasons Ronaldo May Join Chelsea During Next Transfer Window
Embattled Cristiano Ronaldo may be on his way out of Old Trafford by next transfer window. His new destination is most likely to be Stamford Bridge.
Following are reasons to support this claim:
1. Todd Boehly/Jorge Mendes Connection
Ever since new Chelsea co-owner, Todd Boehly took over from Abramovich, he had never hid his admiration for Ronaldo. It was therefore not surprising when he told Thomas Tuchel to sign the Portuguese talisman during last transfer window, but the erstwhile German tactician had a different plan.
And lately, according to Skysports, the relationship between Boehly and Ronaldo's agent, Jorge Mendes has assumed a new dimension with both of them usually seen together.
2. Sack of Thomas Tuchel
Thomas Tuchel was pivotal to the non-signing of Ronaldo during last transfer window before he was sacked. With him out of the way, it'll be smooth sailing for Todd Boehly to have his wish fulfilled under new coach, Graham Potter.
3. Fall Out With Erik Ten Hag
Ronaldo's recent fallout with Manchester United's coach, Ten Hag would most likely continue to haunt Ronaldo out of Old Trafford. He may find it difficult to erase the incident that led to his walking out on the team during the game against Tottenham.
4. Loss of Credibility
Ronaldo is fast losing credibility among the players and the support staff of Manchester United. According to Skysports, there's a joke among the staff that the acronym CFC which stands for Chelsea Football Club may begin to mean Cristiano Football Club. Expensive joke at that.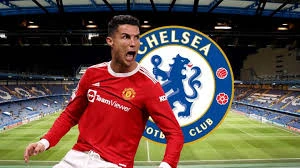 5. Interest From Clubs
The interest from clubs across Europe has been somehow limited. Only Chelsea looks serious among contenders for Ronaldo's signature.