Why Thomas Tuchel Should Be Blamed For Substituting Mendy For Kepa.
Edouard Mendy should have been trusted with the responsibility of saving the penalty shootouts. The Senegalese helped the Senegal national team win the first African Cup of Nations title in history after saving the day in the penalty shootouts.
Chelsea were defeated by Liverpool in the final game of the 2021–2022 EFL Cup competition. Thomas Tuchelmade his last change by substituting Edouard Mendy for Kepa Arrizabalaga to help the team in the penalty shootouts.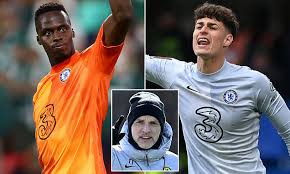 Photo credit: dailymail
This tactical decision worked for Chelsea against Villarreal in the UEFA Super Cup final, where Kepa Arrizabalaga became the hero of the game by saving some penalty kicks for the Blues.
Thomas Tuchel should have trusted Edouard Mendy, who has been one of the best players for Chelsea in the game. His wonderful saves kept Chelsea in the game till the last minute.