The 5 Things That Mykhailo Mudryk Needs To Do To Turn His Chelsea Fortunes Around
A return of 0 goals and 2 assists in 20 appearances is not what fans were expecting when the Blues shelled out £87m on the Ukrainian international.
There are many reasons why Mudryk has failed to make an impact so far and, in this article, we will be addressing them, as well as suggesting possible remedies that could help him realise his potential.
Press the next page as well list 5 things that the 22-year-old needs to do to turn his fortunes at Chelsea around.
1) Train, Train, Train
Some pundits have already pointed out that Mudryk hasn't been given a fair run in the starting eleven. There is some truth in that as he has started two games in a row only once since his arrival in England.
However, the fact that Graham Potter, Frank Lampard and now Mauricio Pochettino have all opted against giving him regular game time suggests there is more going on here. Pochettino provided an insight after the defeat to West Ham when he said he is not doing enough on the training pitch:
"First of all he needs to build his continuity and trust during the trainings during the week."
The first priority for Mudryk, therefore, is to work harder in training so he can get more chances to play.
2) Take chances when they come
Another big concern for supporters is that, even when Mudryk is given opportunities, he rarely looks like making a big impact on the game.
There was a telling moment during the opening fixture against Liverpool which kind of sums up where he is at as a player.
Mudryk used his pace well to get one-on-one with Alisson but a heavy touch around the keeper meant he went too far wide, forcing him to pass to Raheem Sterling who fluffed his lines.
If he had taken that opportunity and scored to win the match, it could have kickstarted his Chelsea career. As it was, it was nothing but a footnote in the game. If he gets such a gilt-edged chance off the bench in the future, he needs to have more composure.
3) Stay injury free
Chelsea would have been surprised not to see Mudryk in the starting eleven for the Carabao Cup second-round tie against AFC Wimbledon last month.
It was the perfect opportunity for the Ukrainian to make an impression. Unfortunately, the winger had picked up an injury prior to the game.
Considering Mudryk is not an injury-prone player, it was purely bad luck that he missed out on that fixture.
If he can remain injury-free from now on, he will get his chance in the Carabao Cup against Brighton later this month if Pochettino opts against using him before then.
4) Find a mentor
I News conducted an interesting interview with sport psychologist Dr Hannah Stoyel last month where she noted the lack of mentors in this current Chelsea squad. When it was suggested that psychologists could be used to help this group of young players, she replied:
"It's one thing for a psychologist to come in, but actually having players in the room who've lived it is really important. Chelsea will have to find a way to create that, whether it's past mentors coming back, or staff that used to play taking on a more pastoral role. If players don't have the information of how others managed it, it can be tough."
You can tell Mudryk is suffering with low confidence and the absence of someone he can look up to and learn from in difficult situations is clearly not helping.
At 28 years of age, you'd have thought that Raheem Sterling would be the best player to take him under his wing. Perhaps the England international can help his fellow teammate?
5) Be braver on the ball
You only have to look at Mudryk's performances for Shakhtar Donetsk in the Champions League two seasons ago to see what he is truly capable of.
He was in the top 1% of midfielders for progressive carries (5.93 per 90), the top 10% for successful take-ons (2.47 per 90), and the top 3% for touches inside the opposition penalty box (4.45 per 90).
6 group games is a small sample size but, even so, it is a world away from the numbers he has been racking up in the Premier League. Last season, he only managed 3.43 progressive carries per 90, 1.78 successful take-ons per 90 and 3.84 touches in the penalty area per 90.
Mudryk simply has to be braver in possession as he has the ability to take on opponents in dangerous areas with the ball at his feet.
MNU VS CHE: 4-2-3-1 Pochettino strongest possible IX that could help Chelsea defeat Man Utd
Today's Premier League match between Manchester United and Chelsea at Old Trafford is sure to be exciting. There isn't a distinct favorite for this forthcoming matchup because both teams have shown inconsistent play this season.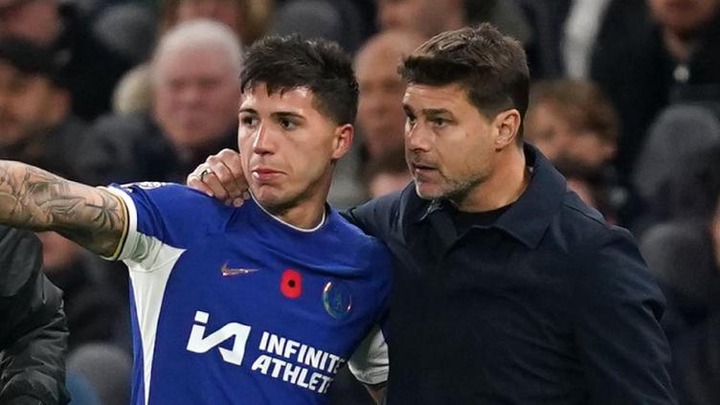 Manchester United hopes to win against Chelsea after suffering an awful defeat to Newcastle United. Chelsea, on the other hand, is hoping to keep up their current winning streak in the Premier League by thrashing Manchester United in their next game.
4-2-3-1 Pochettino predicted starting IX
Goalkeeper: The Spanish international Robert Sanchez is expected to start in goal
Defenders: Benoit Badiashile, Levi Colwill, Thiago Silva, and Reece James make up Chelsea's defense. Reece James is anticipated to start the next game, Despite his red card suspension that kept him out of the match against Brighton.
Midfielders: Cole Palmer, Moises Caicedo, and Enzo Fernandes are midfielders. As Conor Gallagher is out due to suspension, Cole Palmer will fill in at offensive midfield, with Enzo Fernandes and Moises Caicedo handling additional roles in central and defensive midfield.
Forward: Raheem Sterling, Armando Broja, and Mykhailo Mudryk are the forwards. Nicolas Jackson, who has been struggling, is replaced by Armando Broja, with Raheem Sterling on the right wing and Mykhailo Mudryk in his standard left wing position.
Confirmed Chelsea line up vs Newcastle: Lesley Ugochukwu replaces Moises Caicedo as Palmer start with Gallagher in Midfield #NEWCHE
Mauricio Pochettino makes two changes to his Chelsea team for today's game at Newcastle.
Benoit Badiashile comes in for his compatriot Axel Disasi in the heart of defence, while Lesley Ugochukwu replaces Moises Caicedo.
Otherwise, it is the same starting XI that began the 4-4 draw against Manchester City prior to the international break
That means Reece James, Thiago Silva and Marc Cucurella join Badiashile at the back, ahead of Robert Sanchez. Enzo Fernandezand Conor Gallagher continue in midfield, with Raheem Sterling and Cole Palmer supplying the width in attack, either side of Nicolas Jackson.
Caicedo and Levi Colwill, who was injured during the recent break, are among those named on the bench.
Alexander Isak returns for Newcastle after injury, but there is no Sean Longstaff.
Chelsea: Sanchez; James (c), Thiago Silva, Badiashile, Cucurella, Enzo, Ugochukwu, Gallagher, Palmer, Jackson, Sterling
Subs: Petrovic, Colwill, Disasi, Maatsen, Caicedo, Matos, Madueke, Mudryk, Broja
Newcastle: Pope, Livramento, Lascelles (c), Schar, Trippier, Guimaraes, Miley, Almiron, Joelinton, Isak, Gordon
Subs: Dubravka, Gillespie, Karius, Dummett, Ritchie, Diallo, Murphy, Ndiweni, Parkinson
Referee Simon Hooper
How Palmer and Reece James Have Complemented Each Other in Chelsea's Lineup This Season
Reece James just returned to action for Chelsea this season after recovering from an injury that kept him on the sidelines for weeks but the synergy between the Chelsea Skipper and Cole Palmer has emerged as a pivotal factor in Chelsea's recent impressive performance.
Their relationship on the pitch showcases a dynamic partnership that has been significantly impacting the team's overall performance.
One key element of this collaboration is the strategic placement of Cole Palmer in the middle, operating behind the striker.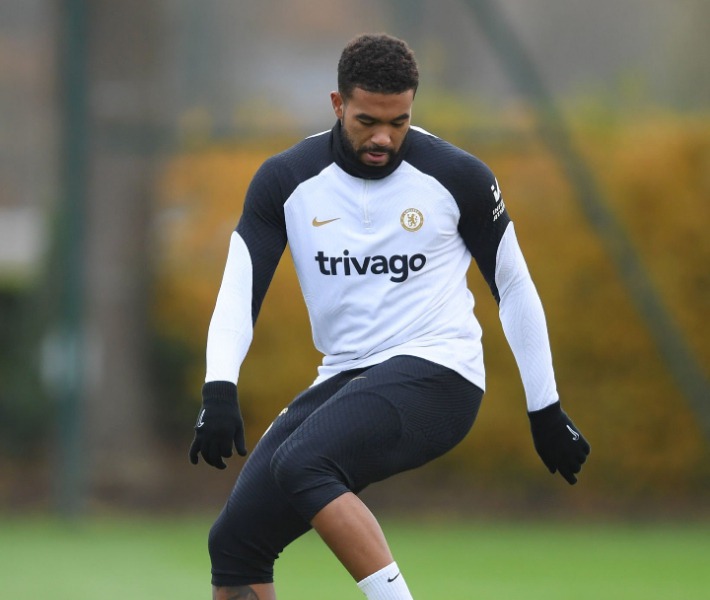 This positioning capitalizes on Palmer's unique skill set, acknowledging that he may not possess the blistering pace or sheer physicality to excel in isolated one-on-one situations with defenders.
Instead, Palmer's strength lies in his ability to receive the ball on the half-turn, exhibiting clever passes that ignite the team's attacking prowess.
Palmer's fluid style, characterized by his adept use of pockets and floating movements, creates a symbiotic relationship with Reece James.
James, a versatile right-back, benefits from Palmer's strategic play by having the freedom to occupy the wing.
This tactical understanding not only maximizes Palmer's strengths but also amplifies James's impact on the game.
What becomes evident in this partnership is Palmer essentially playing as a number 10, operating in a role that aligns with his capabilities and enhances the team's attacking dynamics.
By strategically placing Palmer in a central position, Chelsea leverages his playmaking abilities, allowing him to orchestrate the flow of the game and provide crucial link-up play between the midfield and the strikers.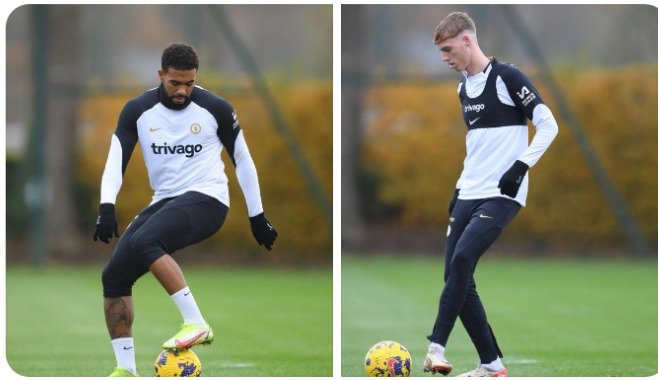 The tactical harmony between Palmer and James is not just about individual brilliance but also about how their styles complement each other seamlessly.
Palmer's intelligent movements and distribution empower James to venture forward with confidence, creating a fluid and dynamic attacking unit for Chelsea