Chelsea have £106m Christopher Nkunku wildcard to also benefit Ben Chilwell and Levi Colwill
Mauricio Pochettino perhaps has a wildcard option for Chelsea to play in the No.10 role against AFC Bournemouth should the Blues head coach revert back to what he did in pre-season
Christopher Nkunku is expected to be injured until at least December
The opening four games of the season have been far from ideal for Chelsea and Mauricio Pochettino.
After a strong performance against Liverpool, there was disappointment seven days later at West Ham United. A win against Luton Town the next week followed but the Blues were beaten at home to Nottingham Forest before the international break.
In the early weeks of the season, we have seen a rather surprise formation and system used by Pochettino. The Argentine spent the whole of the club's pre-season tour of the United States using the 4-2-3-1 formation – a shape and style he has used plenty throughout his managerial career, so it is what we expected to see at the beginning of the campaign but that has not been the case.
Instead, what Pochettino has used is a bit more complicated and has some roles in there that some Chelsea supporters are still a bit bemused by; even now after it has been used for four Premier League matches. Ben Chilwell is being used in an unorthodox role as a left winger, where he is usually used as a full-back.
Chilwell certainly has not set the world alight in his new role and there have been numerous calls to push the England international back into defence sooner rather than later. Levi Colwill, instead, has been the man used at left-back, with Axel Disasi and Thiago Silva forming a partnership in the centre of defence.
While Colwill has not played badly as a full-back, his attributes definitely suit playing as a central defender more. Chelsea's long-term plan will surely still see Colwill playing as a centre-back and Chilwell on the left of him, but there is no clear indication when we will see that again.
Perhaps after the ongoing international break, we could see the 4-2-3-1 once again – something Chelsea supporters have been crying out for on social media. The Blues are away at AFC Bournemouth on Sunday afternoon and could trial something different after a really underwhelming attacking display against Forest last time out.
We could see a debut for Cole Palmer down on the south coast, which could see a swap of wings for the in-form Raheem Sterling. Fortunately for Chelsea, Sterling is equally as strong on both flanks and seeing him cut in on his favoured right foot could actually benefit him against the Cherries, while Palmer will be doing the same on his preferred left.
With Christopher Nkunku still sidelined for some time, Chelsea do not have many options for the No.10 role behind Nicolas Jackson. One man, however, that suits that position is the brilliant Enzo Fernandez, who has been enjoying a more advanced role in the early stages of the season.
Having Fernandez further up the pitch sees Chelsea look far more controlled when they are in attacking areas. The Argentina international undoubtedly needs to add more goals and assists to his game if he is to continue playing in these advanced positions but the early indications are really positive.
What Fernandez will do, though, in the No.10 position is drop deep to collect the ball when Chelsea are in possession and look to dictate play from the areas we are used to seeing him do so. In doing this, it is likely to attract an opposition midfielder into a position they do not really want to be in and therefore create space in the middle for the likes of Jackson, Sterling and Palmer to exploit.
What the Argentine does off the ball is just as important as what he does while on it when playing in the No.10 role. The key to play in that position just behind the striker is to almost have a free-roaming role which confuses and frustrates the opposition because those operating there are usually the most dangerous attacking players in the team, so they must be followed at all times.
It will be a similar position to where we saw Nkunku used, at times, during pre-season but the role and its responsibilities will be slightly different. Nkunku was used essentially as a second striker and was making runs alongside Jackson – like a centre-forward would. Meanwhile, Fernandez would be another midfielder essentially, just in a more advanced role.
Pochettino sees Fernandez as a No.8 so the No.10 role might not be where the head coach sees his Argentine countryman. But there is certainly potential as a wildcard option.
"He is a No.8," Pochettino said to Sky Sports last month on Fernandez. "One of the first things when we met him is to talk about his position and how he feels comfortable, and then to talk about his quality. He needs some freedoms. He has the quality to assist, to shoot from outside the box.
MNU VS CHE: 4-2-3-1 Pochettino strongest possible IX that could help Chelsea defeat Man Utd
Today's Premier League match between Manchester United and Chelsea at Old Trafford is sure to be exciting. There isn't a distinct favorite for this forthcoming matchup because both teams have shown inconsistent play this season.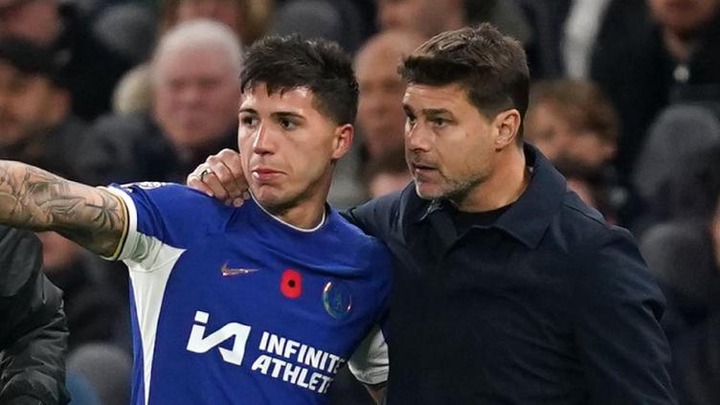 Manchester United hopes to win against Chelsea after suffering an awful defeat to Newcastle United. Chelsea, on the other hand, is hoping to keep up their current winning streak in the Premier League by thrashing Manchester United in their next game.
4-2-3-1 Pochettino predicted starting IX
Goalkeeper: The Spanish international Robert Sanchez is expected to start in goal
Defenders: Benoit Badiashile, Levi Colwill, Thiago Silva, and Reece James make up Chelsea's defense. Reece James is anticipated to start the next game, Despite his red card suspension that kept him out of the match against Brighton.
Midfielders: Cole Palmer, Moises Caicedo, and Enzo Fernandes are midfielders. As Conor Gallagher is out due to suspension, Cole Palmer will fill in at offensive midfield, with Enzo Fernandes and Moises Caicedo handling additional roles in central and defensive midfield.
Forward: Raheem Sterling, Armando Broja, and Mykhailo Mudryk are the forwards. Nicolas Jackson, who has been struggling, is replaced by Armando Broja, with Raheem Sterling on the right wing and Mykhailo Mudryk in his standard left wing position.
Confirmed Chelsea line up vs Newcastle: Lesley Ugochukwu replaces Moises Caicedo as Palmer start with Gallagher in Midfield #NEWCHE
Mauricio Pochettino makes two changes to his Chelsea team for today's game at Newcastle.
Benoit Badiashile comes in for his compatriot Axel Disasi in the heart of defence, while Lesley Ugochukwu replaces Moises Caicedo.
Otherwise, it is the same starting XI that began the 4-4 draw against Manchester City prior to the international break
That means Reece James, Thiago Silva and Marc Cucurella join Badiashile at the back, ahead of Robert Sanchez. Enzo Fernandezand Conor Gallagher continue in midfield, with Raheem Sterling and Cole Palmer supplying the width in attack, either side of Nicolas Jackson.
Caicedo and Levi Colwill, who was injured during the recent break, are among those named on the bench.
Alexander Isak returns for Newcastle after injury, but there is no Sean Longstaff.
Chelsea: Sanchez; James (c), Thiago Silva, Badiashile, Cucurella, Enzo, Ugochukwu, Gallagher, Palmer, Jackson, Sterling
Subs: Petrovic, Colwill, Disasi, Maatsen, Caicedo, Matos, Madueke, Mudryk, Broja
Newcastle: Pope, Livramento, Lascelles (c), Schar, Trippier, Guimaraes, Miley, Almiron, Joelinton, Isak, Gordon
Subs: Dubravka, Gillespie, Karius, Dummett, Ritchie, Diallo, Murphy, Ndiweni, Parkinson
Referee Simon Hooper
How Palmer and Reece James Have Complemented Each Other in Chelsea's Lineup This Season
Reece James just returned to action for Chelsea this season after recovering from an injury that kept him on the sidelines for weeks but the synergy between the Chelsea Skipper and Cole Palmer has emerged as a pivotal factor in Chelsea's recent impressive performance.
Their relationship on the pitch showcases a dynamic partnership that has been significantly impacting the team's overall performance.
One key element of this collaboration is the strategic placement of Cole Palmer in the middle, operating behind the striker.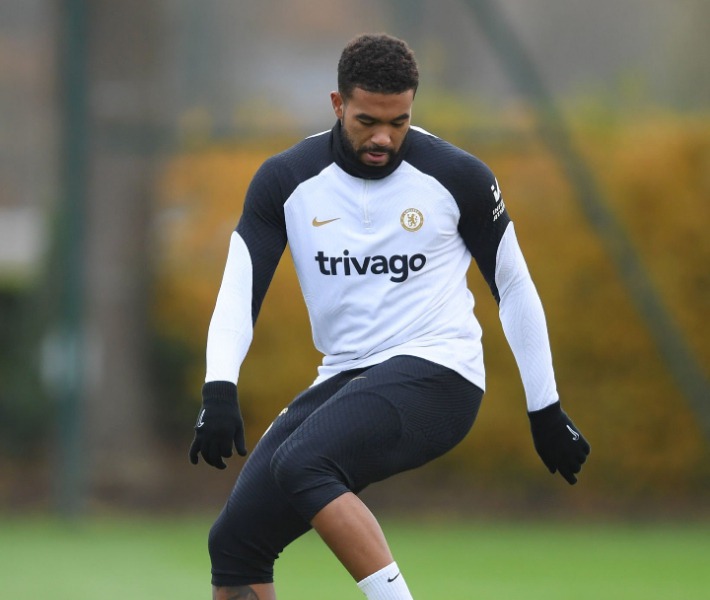 This positioning capitalizes on Palmer's unique skill set, acknowledging that he may not possess the blistering pace or sheer physicality to excel in isolated one-on-one situations with defenders.
Instead, Palmer's strength lies in his ability to receive the ball on the half-turn, exhibiting clever passes that ignite the team's attacking prowess.
Palmer's fluid style, characterized by his adept use of pockets and floating movements, creates a symbiotic relationship with Reece James.
James, a versatile right-back, benefits from Palmer's strategic play by having the freedom to occupy the wing.
This tactical understanding not only maximizes Palmer's strengths but also amplifies James's impact on the game.
What becomes evident in this partnership is Palmer essentially playing as a number 10, operating in a role that aligns with his capabilities and enhances the team's attacking dynamics.
By strategically placing Palmer in a central position, Chelsea leverages his playmaking abilities, allowing him to orchestrate the flow of the game and provide crucial link-up play between the midfield and the strikers.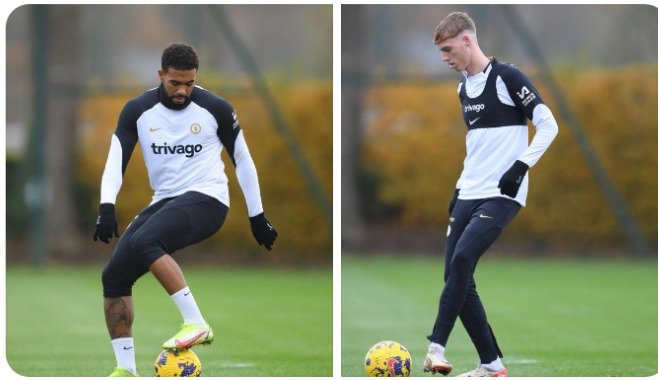 The tactical harmony between Palmer and James is not just about individual brilliance but also about how their styles complement each other seamlessly.
Palmer's intelligent movements and distribution empower James to venture forward with confidence, creating a fluid and dynamic attacking unit for Chelsea